Aquisition of perfluorence GmbH
On June, 10th 2016 the perfluorence GmbH was sold and purchased by Mr. Gunter Wolf. Mr. Wolf is managing partner of Wolf Kunststoff – Gleitlager GmbH (www.zedex.de).
The core capabilities of the Wolf Kunststoff – Gleitlager GmbH range of tribological high performance plastics as PEEK, PPS, PEI, TPI, PET, PES and other types of plastics. These plastics have been processed by the Wolf Kunststoff – Gleitlager GmbH since more than 40 years by means of compounding, extrusion, injection molding and cutting operations.
The perfluorence GmbH will remain an independent company and continues to use the underlying patents of Leibniz – Institute for Polymer Research Dresden e.V. (IPF) and all the related exclusive licenses.
The company founders Mr. Engelhardt, Mr. Marks and Mr. Rosenbaum will still be available with their knowledge for the perfluorence GmbH. The company perfluorence GmbH, the Wolf Kunststoff – Gleitlager GmbH and as well the Leibniz – Institute of Polymer Research Dresden e.V. will continue to cooperate. This allows the perfluorence GmbH to use the systems, processes and know – how of the Wolf Kunststoff – Gleitlager GmbH and the Leibniz – Institute.
Therefore, expanding and enhancing the product portfolio of perfluorence GmbH to semi-finished products, injection molded parts and products machined parts. All existing products will continue to be
available.
Competition Weconomy 2014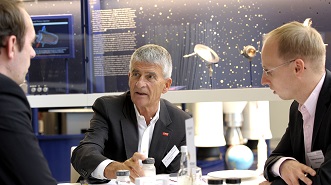 In 2014, perfluorence GmbH was one of the eight winners of the "Weconomy" start-up prize awarded by the Wissensfabrik business network, Handelsblatt and UnternehmerTUM. As a prize, we receive a knowledge exchange between winners and top managers of the German economy as well as a mentoring program.
Collaboration
Would you like to be part of this innovative team and contribute to its successful growth? We are currently looking for a student for a final thesis. The topic for this is "Development and characterization of additives for heavy duty lubricants". Furthermore, we are regularly looking for interns, working students, prospective graduates also in other topics. Please send us your informative speculative application.
CONTACT US
We have raised your interest?
Then do not hesitate and write to us.
We will then get in touch with you.
Your perfluorence GmbH

perfluorence GmbH
Heisenbergstrasse 55-57
50169 Kerpen
Fon (+49) 2237 6299 545
Fax (+49) 2237 6299 546